EDIT (4/21/2015)

The rapidshare links aren't working so please download the suite here: I'm also adding a song I've written using only these synths for the basslines so you can preview some of the results:
http://www.earthsidemassive.com/itchy/itchysynths_overdosesuite.rar
Honestly I'd just feel bad if I didn't tell everyone about these VSTi's. Itchy has made a powerful statement with this  very intuitive and beautiful suite that will easily find a home in anyone's studio. Please take a moment to check out this overview from pjbridger @ http://www.dubstepforum.com/viewtopic.php?t=90924 :
(you can get ahold of Itchy here http://www.myspace.com/itchydubs)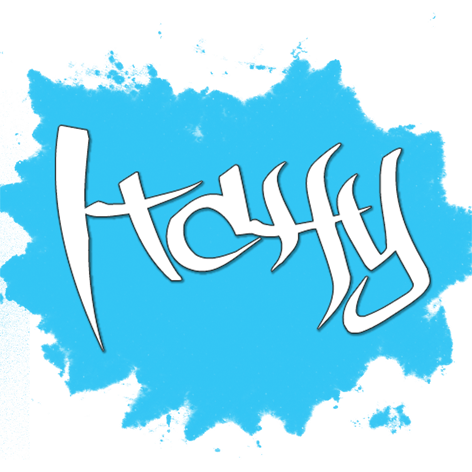 THESE SYNTHS WERE DEVELOPED BY ITCHY WITH DUBSTEP AND DRUM AND BASS SPECIFICALLY IN MIND, SAYING THIS THEY WOULD BE USEFULL AND SOUNDS FROM THEM COULD FIND A PLACE IN ANY GENRE.
THERE ARE BANKS OF PATCHES WITHIN EACH SYNTH AND AT THE END OF THE BANKS THERE ARE INIT SETTINGS WHICH CAN BE USED AS A STARTING BLOCK TO CREATING YOUR OWN PATCHES.
ITCHY RECCOMENDS THIS AS THESE SYNTHS WHERE BUILT TO TRY TO BE AS USER FRIENDLY AS POSSIBLE TO HELP PEOPLE STARTING OUT IN SOUND CREATION.
THEY ARE FREE TO DOWNLOAD AND DISTRIBUTE AND ITCHY HOPES YOU HAVE LOTS OF FUN WITH THEM!
ITCHY WOULD ALSO LOVE TO HEAR ANY TUNES MADE WITH THEM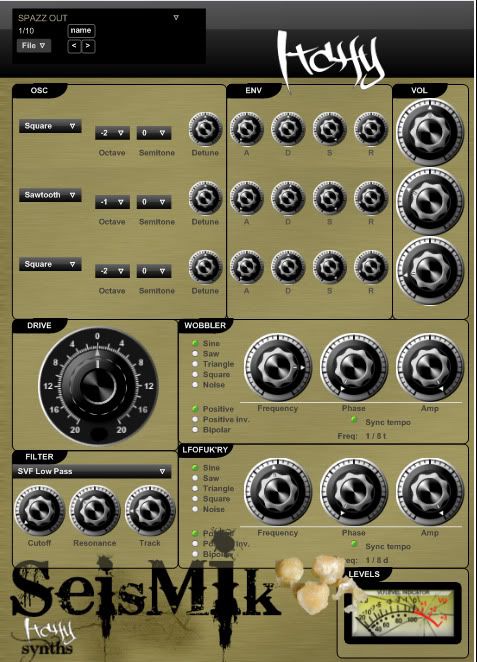 SEISMIK
THE BIG BASS BOUNCER
A THREE OSCILATOR SYNTH CONSISTING OF AN LFO WHICH IS THEN CONTROLLED BY ANOTHER LFO NAMED LFO FUCKRY
THIS ENABLES YOU TO GET COMPLEX MODULATIONS AND CREATE MAD WOBBLES
PUNCH
THE STAB SYNTH
PUNCH HAS THREE OSCILLATORS WHICH ARE SENT TO A ENVELOPE WITH HARD ROUTED SUSTAIN AND RELEASE SETTINGS
THIS ENABLES YOU TO CREATE STAB AND HIT SOUNDS WITH EASE
YOU CAN FLAVOUR THESE WITH DELAY AND REVERB TO YOUR TASTE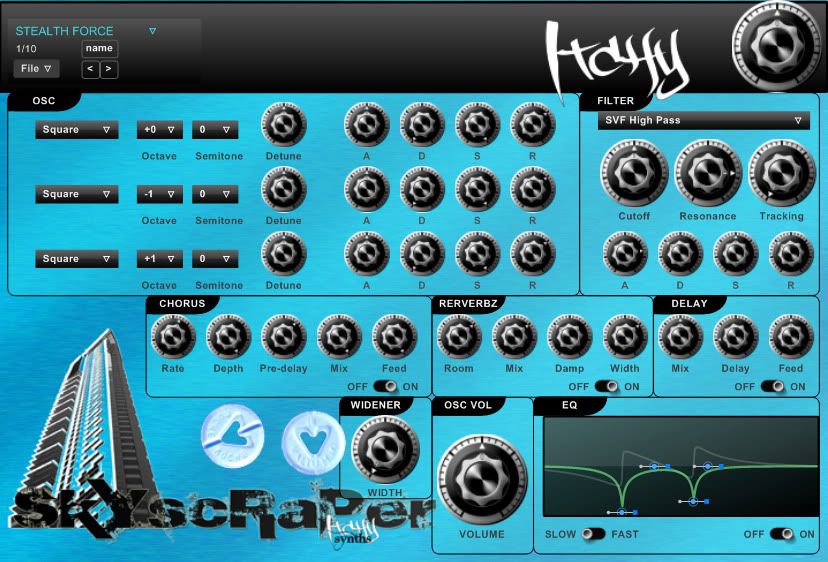 SKYSCRAPER
THE PAD AND LEAD SCREAMER
THIS SYNTH HAS THREE OSCILLATORS WITH SEPERATE ENVELOPES TO SCULPT SOUNDS
THE FILTER HAS AN ASSIGNED ENVELOPE TO ADD DETAIL
AND THEN CAREFULY CHOSEN EFFECTS TO COMPLEMENT YOUR PATCH
RESONANCE
THE WOBBLE MONSTER
RESONANCE HAS FOUR PUMPING OSCILLATORS AND A ANALOGUE SOUNDING FILTER TO ADD MAX WARMTH TO YOUR BASSLINES
EACH OSCILLATOR HAS DEDICATED VOLUME CONTROLS TO ADD CONTROL TO ADD WAVESHAPE CONTROL
IT HAS AN ADDED ENVELOPE ASSIGNED TO THE LFO WHICH ENABLES CRAZY VARIATIONS IN THE LFO PATTERN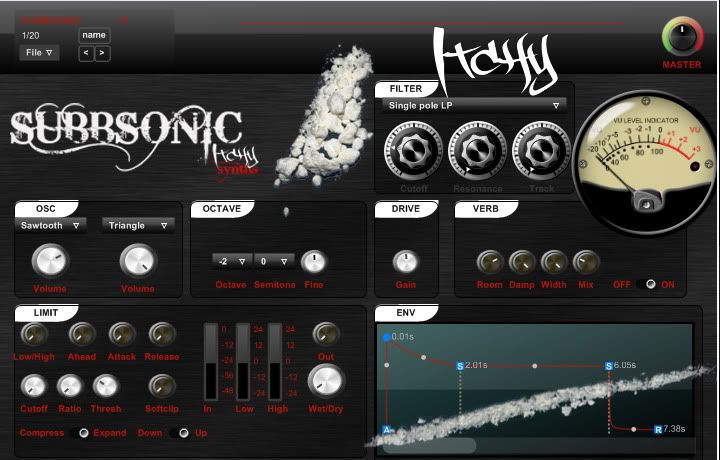 SUBBSONIC
THE SUBB SHAKER
THIS TWO OSCILLATOR SYNTH COMBINES BASIC WAVE SHAPES TO A MODIFIED FILTER TO CREATE HUGE SUBBS
IT HAS AN ADDED GRAPHIC ENVELOPE TO ENABLE YOU TO CHANGE YOUR SOUND OVER TIME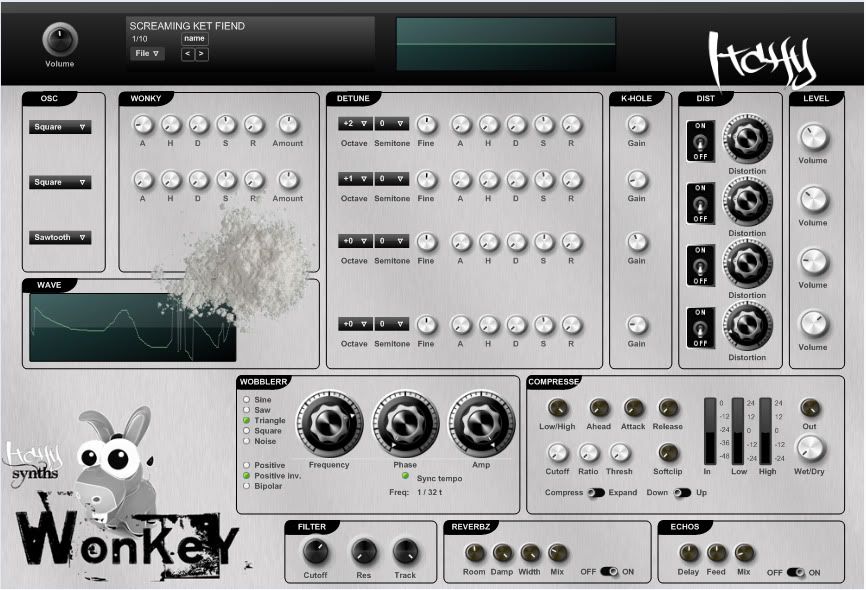 WONKEY
THE WEIRD AND WONDERFULL
THIS SYNTH COMBINES 3 BASIC OSCILLATORS WITH ONE GRAPHIC OSCILLATOR TO CREATE MAD SOUNDS
IT HAS AN ADDED WONKEY ENVELOPE WHICH MESSES WITH YOUR OSCILLATORS IN A CRAZY PITCHED OUT STYLE
IT HAS THE ADDED K – HOLE AND DISTORTION CONTROLS FOR EACH OSCILLATOR TO ADD GRIT AND POWER
WHOLE SUITE – http://rapidshare.com/files/238614608/ITCHY_SYNTHS_-_OVERDOSE_SUITE.rar
T-TOTAL EDITION –
THANK YOU TO ALL CONTRIBUTERS
POGFLIPPER
CRAIC ADDICT
ALAVUX
LEVAP
BALOG
MINUS
COMSTEFANFALKENBERG
NEG-09
S3BBE
AND ANYONE I FORGOT OR INSPIRED ME
DISCLAIMER – ALTHOUGH THESE SYNTHS HAVE PICTURES OF DRUGS ON THEM ITCHY DOES NOT USE DRUGS AND DOES NOT CONDONE THE TAKING OR SELLING OF DRUGS
DONT DO DRUGS!!!
THERE IS ALSO THE OVERDOSE SUITE T-TOTAL FOR ANYONE WHO DOES NOT WANT THE IMAGES ON THE SYNTHS
ALTHOUGH THESE SYNTHS ARE FREE TO DISTRIBUTE AND USE NO ONE IS TO MAKE MONEY FROM THEM
ANY DONATIONS GRATEFULLY RECIEVED AND WILL LEAD TO ME MAKING MORE SYNTHS
IF YOU WANT TO DONATE DO SO HERE – http://www.myspace.com/itchydubs
PS THIS SHIT HAS BEEN COPYRIGHTED
Enjoy,
annias
Link Summary